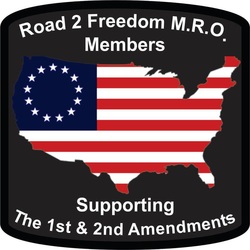 As Of June 1st 2014 This Is Our New Membership Patch.

This will be the Only Patch Required to be Member of Road 2 Freedom MRO. This Patch is 4"x4"

and each yearly member will receive a 1-1/2" x 3/4" year patch per each year of support that can be displayed just below this patch.

With Road 2 Freedom MRO all members can ask for a Printed Eagle Set which includes a Large Back Patch and a Small Front Patch. (There are Some Exceptions to this). Talk to Our Corporate Office which holds the license to lease these patches to the R2F MRO.

Thank You for Supporting Road 2 Freedom MRO.







---
Membership
Yearly Memberships are $20.00 per single, $35.00 per couples (ones with same mailing address) includes 4"x4" Member Patch. Renewals are $15.00 Single and $25.00 for couples.
Additional family members 12-17 years of age (Requires a Parent as a Member) are $10.00 per year per member. Plus $5.00 per Small Membership Patch. Those under twelve (12) are free to attend with a parent as a member.To Keep your Membership in Good Standings, YOU MUST have your Membership Paid On or Before the end of December each year.
Single Memberships:
(1) Road 2 Freedom Patch. Every yearly renewal you will get a R2F yearly service rocker patch.

Couples Membership:
(2) Road 2 Freedom Patch. Every yearly renewal you will get a R2F yearly service rocker patch.

Embroidered Eagle Patch Set (Consist of One (1) Large Back Patch and One (1) Small Front Patch, can be leased but one needs to be a committed member and Our Corporate Office has the last vote. (Cost is $65.00 Cost and Subject to Change without notice) Patches can only be used by members in good standings.

Our Eagle/Bell Patches both Large and Small Have an Register (R) Trademark and Owned By Road 2 Freedom MRO Inc. and are leased to Road 2 Freedom MRO.
All Memberships are to be paid on or before the end of December of each year to stay in good standings. All memberships run one year (12 months) . Yearly service patch are given out to those with there yearly memberships up to date and in good standings.
Non payment of membership will lead to lost voting rights as well as event functions till said membership or ships are restored up to date.
Anyone more than 30 day past membership due date without contacting R2F MRO Inc. for terms of payment, would be asked to return your
Small R2F MRO Patch as well as your Large One (If One was Issued to you) to Our R2F MRO Inc. Corporate Office. R2F MRO Inc. holds the license to these Patches and they must be returned if your no longer a Member.

R2F MRO Support Patch, Anyone can buy this patch. Patch Shows your Support for Our Organization in your area.
Patch Cost = $5.00 eachGetting A Membership in Your State/Area.
If you find yourself looking into the Road 2 Freedom MRO and You decide that this is a great fit for you and others in an area that don't have any local members, please contact any of our members through our blog page or the link to Facebook.
https://www.facebook.com/#!/pages/Road-2-Freedom-MRO/336535159796746
we will set up a meet and help you get started in your area.
We will need at least one new member to be set up as a Asst. Director@Large and you would need to have a Secretary and Sgt. of Arms, that's it.

Three things we do follow being a Family Based Organization is Your Blood Family comes First, Your Job or Jobs Second And
The Road 2 Freedom MRO Third. He or She that puts Blood Family first will find the time for the Road 2 Freedom MRO, for if you don't have the First Two there would be No Third.
Road 2 Freedom MRO Supports The Flood Run and The Kids At Gillette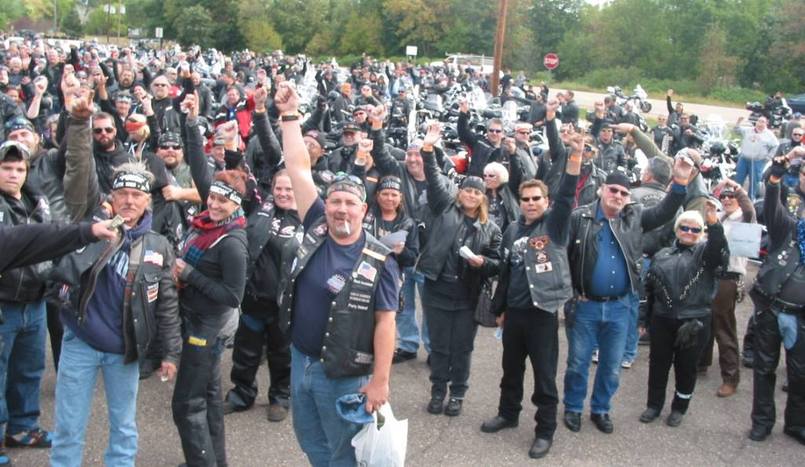 ---